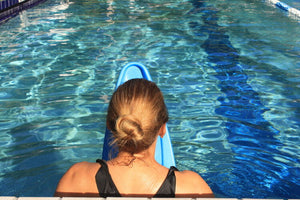 Swimming is one of the most healthy, fun, challenging, relaxing and low impact forms of exercise you can do
People of all ages can swim. As we age, adding low impact, aerobic exercise to the physical fitness routine is key to maintaining a healthy body and mind. Swimming can be the ideal activity for many who can't bear the high impact and joint stress of running, jogging, bootcamps or other high impact exercise routines.
Ditch the goggles, kickboards and earplugs! Swim Fit Board keeps your head above the water!